Immersive internet and holographic 4D experience are just a hint of what the upcoming telecommunications technologies are promising for the years to come. 5G mobile networks stand as the enablers to satisfy the stringent quality of service requirements of such applications, addressing the necessary network densification in the access part through mesh distribution of the radio components -antennas and baseband units- putting in the spot light the 'front-haul' connectivity among them. In this era of network densification, mobile operators seek to reduce costs by exploiting the full potential of their fibre infrastructure. To this end, the emerging trend is to employ Ethernet-based or TDM-PON in the front-haul so that to benefit from the use of mature and lower-cost Ethernet equipment, to enable the sharing of infrastructure with already deployed fixed access networks, and to leverage the statistical multiplexing gains through software-defined networking. At the same time, one of the top priorities at the optical edge becomes the resistance against quantum attacks expected due to the foreseen second quantum revolution that challenges the classical computational complexity of existing security protocols. In consequence, the integration of quantum secured tools in the front-haul, that must even more be in line with critical network parameters, such as the latency budget for the implementation of packetized front-haul segments, becomes a challenging consideration.
In the Athens testbed, UNIQORN, addressing the quantum security challenges in the communication systems through the development of low-cost DV-QKD engines, is currently working on the proposition of a passive deployed network segment to distribute keys to 5G terminal nodes in a quantum secure manner. Exploiting the approx. 22Km passive fibre infrastructure connecting COSMOTE (the Greek mobile operator) R&D testbed and NTUA (the national technical university of Athens) lab premises, the QKD technology developed by UNIQORN partners is employed to integrate the quantum layer on the mobile transport layer, targeting as a first-step co-existence scheme studies.  The compatibility of the UNIQORN DV-QKD link with the dedicated 5G-compatible optical transport segment, where the mobile central unit at COSMOTE is co-located with the Bob station, and the antennas at NTUA together with the Alice stations, is examined through the appropriate design of the corresponding optical layer serving as the front-haul segment (see figure). Within 2021, the project is planning to demonstrate and evaluate these developments and report the corresponding results. So stay tuned in our project web-site!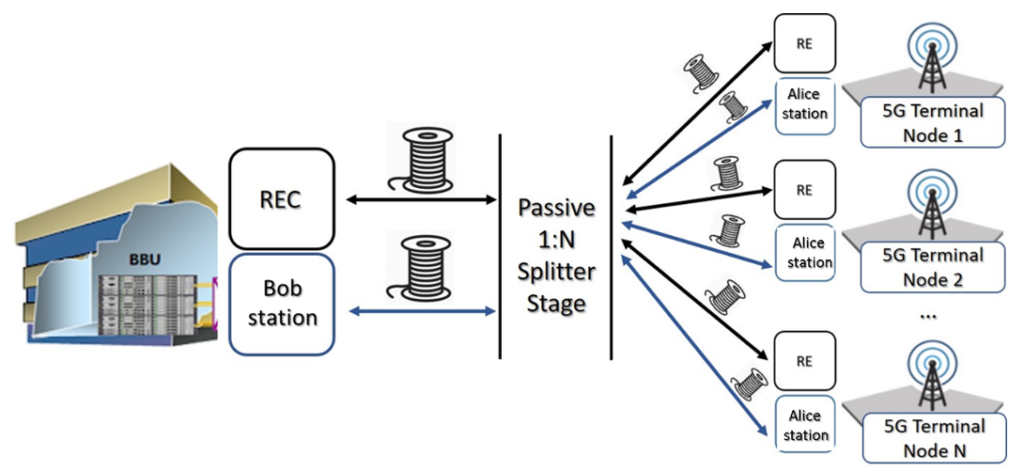 Delivering quantum keys along with interconnection links of LTE small cells/5G terminal nodes.